We are seeing a lot of evidence that the market has turned the corner. The sales of already occupied homes on the rise, while the inventory of unsold homes is back at pre-crisis lows.
Please visit "market sales trends" page on my website to view each county's latest trends.
2012 home sales: Best in 5 years
By Chris Isidore @CNNMoney January 22, 2013: 10:39 AM ET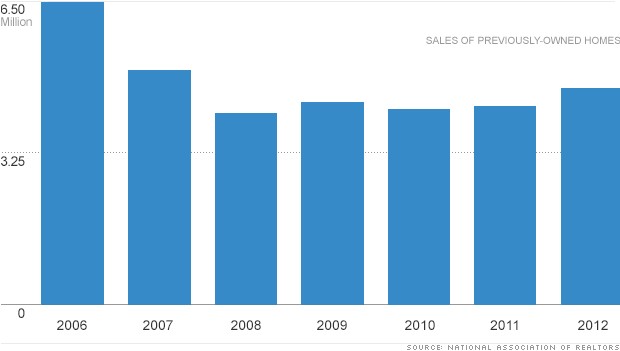 NEW YORK (CNNMoney)
Steady December home sales capped the best year for the U.S. real estate market in five years, according to an industry trade group report Tuesday.
The National Association of Realtors said that December sales of previously-owned homes came in just slightly below November's sales pace, but up 12.8% from a year ago. That brought full-year sales to 4.65 million, up 9% from 2011 and the best year for home sales since 2007, when there were 5 million homes sold just before the start of the recession.
Sales are being helped by a combination of strong market fundamentals — near record low mortgage rates, lower unemployment and a rebound in home prices, all of which are bringing in buyers into the market who had been waiting for it to hit bottom. The mortgage rates and years of depressed home prices have also combined to create the most affordable housing market on record, according to the Realtors group.
And the Realtors are predicting strong sales should continue into 2013 and beyond. It has a forecast for 5.1 million existing home sales this year, and 5.4 million next year.
Related: Big luxury home sales, big tax savings
The improved demand for homes in December led to the inventory of homes for sale to fall to 1.82 million homes on the market, the lowest supply since January 2001. One factor in tightening supplies is a drop in foreclosures and other distressed home sales, which made up only 24% of home sales in December compared to 32% a year ago. The tighter supply, and the drop in distressed sales, have helped to lift home prices so that the median sales price for the year rose to $176,600, up 6.3% from 2011. That's the biggest gain in prices in since the bubble year of 2005.
The rebound in the market for previously-owned homes is also showing up in the market for new homes, where sales rebounded to their highest levels since 2009, while housing starts reached the highest level since 2008.